B&B Villa Sogno Selinunte

Rooms and the common spaces are cleaned and sanitized daily, thanks also to the use of ionizing machines in the rooms, corridors and common areas. Breakfast with Bio products served single tables for 2 people, no buffet .

Villa Sogno offers comfort as a hotel, privacy as home and best service.
Experience the beauty of a territory to discover, from Selinunte Archaeological Park, the largest in Europe, to the Belice Nature Reserve.
Enjoy the fishing village of Marinella di Selinunte and its entertainments, such as clubs, pubs, and taste the typical cuisine based on fish in many exclusive beach restaurants.
Why choose us?
Among the first b&b in Sicily, Italy and Europe (2012-2013-2018-2019-2020-2021-2022-2023)

Among the first bed and breakfasts in Sicily, Italy and Europe. More than 800 reviews certify the quality of accommodation and services at Villa Sogno b&b in Selinunte.

Comfort as a Hotel, intimate as a House

Villa Sogno Charme & Relax offers maximum comfort as a hotel, privacy and intimacy as a house and all services you may need. From hearty breakfasts to the pool with solarium, from gym to free wifi in the whole property.

Wellness & Relax

We also offer exclusive services for wellness and relax: enjoy our treatments with Ayurvedic massages, and experience maximum relax in our jacuzzi.

Two steps from an oasis of history and nature

We are just minutes away from the pristine beaches of Marinella di Selinunte, from the Archaeological Park, the largest in Europe, and from the Belice River Nature Reserve.

Not just beaches and sun

In Selinunte you will find every kind of entertainment: bars e pubs with live music, nice coffee shops, restaurant serving specialties based on fresh fish and lidos to taste a great aperitivo right on the beach.

Bio breakfasts

Our breakfasts are based on organic products and 0 km agriculture, from local companies and authorized distributors. On request, also breakfast for Vegans, Celiacs and other food intolerances.
About Us
Prizes and Awards
Leave a Review
Meet the owners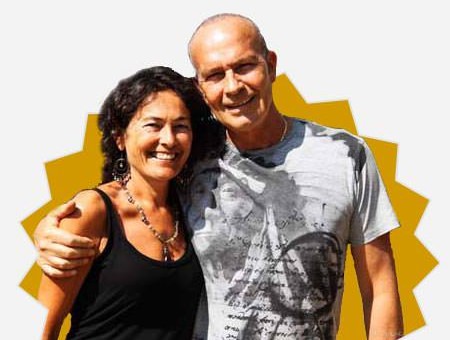 Hi, we're Lorenzo and Cinzia, we're not sicilians but, it may sound weird, we decided to move from the North to the South, here in Selinunte. After years of experience in tourism on the Adriatic Riviera, between Rimini and Riccione, we found in Selinunte the perfect place to spend our life together. It was an irresistible attraction, a magnetism that captured and charmed us. There are very few places in the world where you can, in few metres, take a step back in 3.000 years of history, in the largest Archaeological Park in Europe, and then dive into the Mediterranean crystal clear waters. We saw Selinunte as a raw diamond, a place that worths not one but a hundred lives. And if we could really live a hundred lives, we're sure that Selinunte would be hundred times our home. Lorenzo & Cinzia
Offers in Sicily
Direct Booking Discount 5 Up To 10 Percent

Direct booking discount 2 days 5 up to 10%. Additional 10€ discount per room without breakfast. COD "LOR47" Swimmingpool open 1 April, 1…

Book Offer
Your holiday with us
9.00 a.m.

Enjoy your morning with our hearty breakfasts based on fresh juices and products and continental flavours

10.30 a.m.

In few minutes you can reach the golden sandy beaches of Marinella di Selinunte to dive into the bluest Mediterranean Sea, among lidos and free beaches.

1.00 p.m.

Lunch time! Choose one of the many restaurant by the sea to taste local specialties based on fresh fish, or enjoy a light fast food such as tasty seafood salads and much more.

4.00 p.m.

Don't miss a walk among the ruins of one the most important civilizations of Ancient Greece: visit the Archaelogical Park of Selinunte, the largest in Europe, to experience the ancient history of Greek Sicily.

6.00 p.m.

Treat yourself to a little relaxation with the exclusive services of Villa Sogno b&b: a dive into the pool, a bath in the jacuzzi, an ayurvedic massage, to get ready to live Selinunte by night!

9.00 p.m.

It's time to dine right on the beach: we'll be glad to recommend you the best restaurant to let you enjoy an unforgettable dinner with your feet into the sand, while the sea plays the best soundtrack for your dream holiday in Selinunte...
Don't wait any longer!
Book now your holiday in Selinunte at the b&b Villa Sogno, and enjoy all relax you deserve.
Beaches, crystal clear sea, history and culture, amusement... Selinunte is all this and much more!
Choose the best, and discover the special offer reserved to you by booking now!
Book now